Technology has grown to become an immense part of our lives and it also has reshaped the average workspace. Mobile communications, emails, conference calls, web-based education and digital files have rendered many traditional office space elements as irrelevant, spurring a movement towards a modern office design that incorporates technology for day-to-day handlings.
ISP Glass Partitions
Acoustics glass partitioning in the workspace ensures that the discussion is held in an acoustically comfortable space while also making sure the confidentiality of the chat. With agile working on the rise, video conferencing is a useful tool for colleagues and partners to hold discussion and meetings remotely. Hence, keeping noise out, as well as in becomes an ever so important requirement.
ISP offers both single-glazed (SOLO) and double-glazed (COMO) partitions as part of our mainline product to cater to different acoustics requirement. Our glass partitions use minimal components to evoke a sense of openness as it creates an illusion of a larger and brighter space.
Additionally, we also have the SOLO PLUS system, which is our specially crafted collection that fuses a single glazed panel system with a double glazed profile. This unique combination presents the best of both systems, merging design and cost-efficiency into a single solution.
ISP Power Poles
With the rise of tech panels, room booking systems and integrated technology for conference/meeting rooms, it is important to keep wires and cabling organised, contained and out of sight.
With ISP's Power Pole solution, you can tuck the cables and wires in them to conceal and protect cables running from one end of a room to another. Overall, this design solution ensures that the fit-out maintains a clean and sleek look.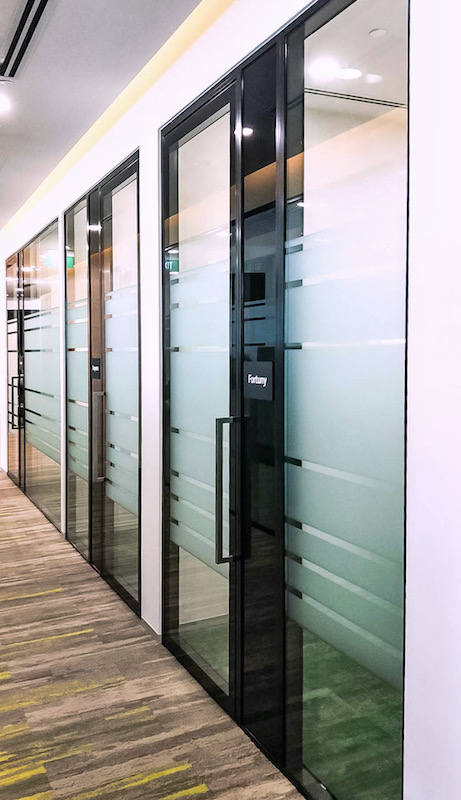 As companies strive to improve workspace productivity, it is essential that employees have better structured and designed rooms to utilise technology in order to maximise productivity.
From the scale of small meeting rooms to large board rooms, we are confident that our products will provide an ideal balance between cost-efficiency and high acoustics performance. Reach out to us and we will be happy to discuss with you the next steps on crafting the ideal acoustics environment for your workspace!