Since the mid-20th century, the designing principle of workspace has been modelled after the phrase 'form follows function' which meant that workspace design should be befitting to the needs of employees.
With more focus placed on promoting work-life balance, improving employee's wellbeing, productivity, teamwork and overall happiness, collaborative working environments has become an essential part of the modern workspace. Open-plan concept office that includes a recreational area, cafe-like break room (or more commonly known as a pantry), open-roof pods and breakout areas for informal meetings are some of the facilities to attract and retain talent.
However, with the abundance of open spaces for agile working, quieter areas and private meeting rooms are also in demand for sensitive discussions and individual productivity to take place.
Glass Partitioning
Glass partitioning in the office enables the creation of a layout that provides privacy without compromising on agile working agendas. It offers a sense of openness by allowing natural light flow, visual connectivity across the workspace and also provides exceptional acoustic performance.
For instance, our COMO double glazed glass panel achieves a Sound Transmission Class of 49 (STC = 49), which is great for meeting rooms that are used for sensitive or confidential discussions. With our variety of glass partition design and the growing capabilities of customisation, ISP collaborates with our clients to unleash possibilities and create the ideal acoustic environment.
Sharing below are 3 of our handpicked designs, each with its unique characteristics and key features!
1. Switchable Smart Glass
Also widely known as Smart Glass, or Magic Glass, this product presents you the flexibility of choosing between openness and privacy with just the flick of a switch!
By default, the glass presents itself in its opaque form which promotes privacy, suitable when having a meeting. When switched on, an electrical current is passed through a layer of film within the glass, causing the liquid crystal molecules in the film to align, allowing light to shine through and revealing a clear glass panel.
Being both versatile and stylish, this is a popular choice for board rooms and conference rooms.
2. Curved Glass
Where most partitioning systems are straight or angular, curved glass is a highly versatile design option that holds almost limitless possibilities.
With the ability to feature a wider variety of manifestation options, curved glass is truly a bespoke design choice which can be incorporated in forms of single or double glazed systems!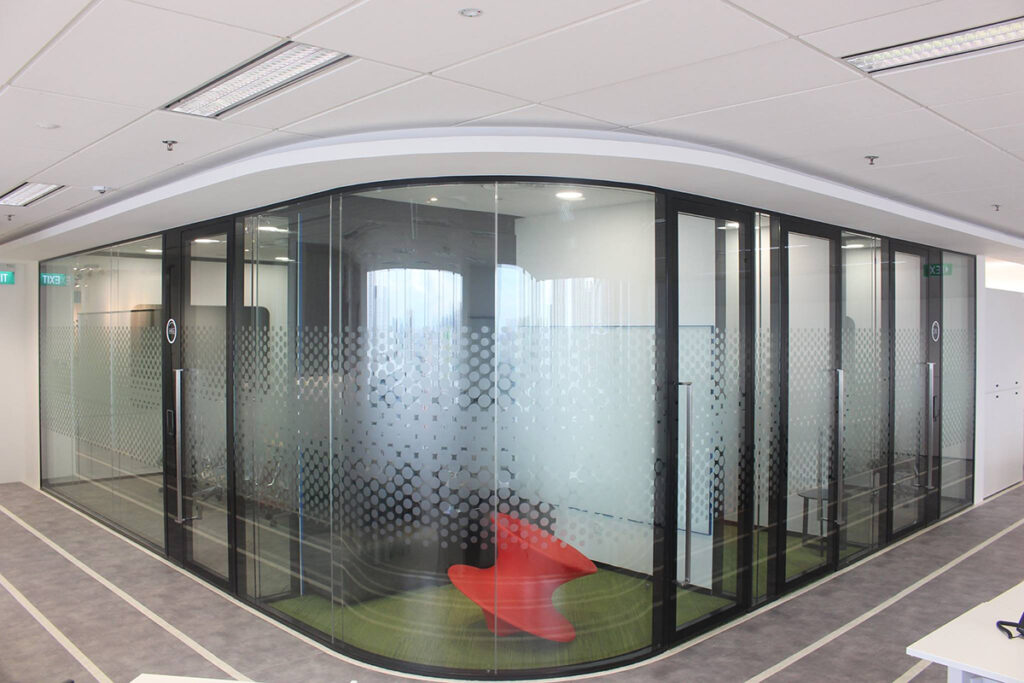 3. Glass Partition with Transom Design
Panelled glazing with our SOLO single glazed glass partition and slim aluminium framework fits the ethos of the industrial theme design – raw and edgy. This helps to achieve the industrial aesthetics while maintaining essential acoustics requirements of the workspace.
Resistant to both stain and scratches, our products are highly durable due to the well-made frames and glass, enabling employees to perform in an acoustically managed environment.