In recent years, the demand for glass sliding doors has been on the rise as it maximises space, facilitates the flow of natural light, and also imparts a feeling of openness. To take things up a notch, our team at ISP has launched an acoustic glass sliding door system last October, the SOLO Sliding Door System (SOLO SDS).
SOLO SDS not only provides the benefits of a regular glass sliding door, but it also reduces noise significantly, which is ideal for creating an environment where acoustic privacy is a priority. In this article, we will be discussing three key reasons to use SOLO SDS for your next project.
1. Acoustic Effectiveness & Performance
The acoustic performance of glass partition is evaluated by the airborne sound transmission loss (TL) of a specific size of a glazed partition. This glazed partition will be tested against a band of octave frequency to derive a final STC rating, which serves an indication of the decibel (dB) reduction the tested glass partition provides.
For example, if a sound intensity of 60dB on one side of the glass partition is reduced to 35 dB on the other side, that partition has an acoustic performance of STC = 25.
For a better relation, some common sounds and their decibel ratings are as follows:
| Sound Level (dB) | Examples | Comfort Level |
| --- | --- | --- |
| 1 – 20 | Whispers, Leaves rustling, soundproof room | Comfortable |
| 21 – 40 | Quiet Conversations | Comfortable |
| 41 – 60 | Normal Conversations | Moderate |
| 61 – 80 | Noisy Office, Street Noise | Loud |
| 81 – 100 | Noisy Factory | Very Loud |
| 101 – 120 | Thunder | Deafening |
| > 120 | Aircraft | Physical Pain |
To provide our customers with a peace of mind, the SOLO SDS and all our glass partition systems are tested for their acoustic performance at TÜV SÜD PSB, whose acoustics laboratory is the most comprehensive in Southeast Asia.
For SOLO SDS, its sound insulation rating is computed according to the standards of ASTM E413, achieving an acoustic rating of STC = 26. Additionally, SOLO SDS works in harmony with our SOLO Glass Partitioning System, which has an STC value of 39 for laminated glass.
With reference to the above decibel scale, a normal conversation in the office has a sound intensity of 40dB. With SOLO SDS and SOLO Glass Partitioning, it keeps noise to a minimum and prevents it from building up to a level that disrupts work.
2. Product Quality
Other than its ability to provide effective control of noise level, the perimeter frame of SOLO SDS is made of high-quality aluminium to ensure its sturdiness, eliminating noise that flimsy doors produce.
When the SOLO SDS is in a sliding motion along the door track, its movement is firm and smooth due to the use of the high-quality roller and track mechanism installed in the system. Additionally, this sliding door system is also completed with soft-closing dampers, to ensure that it opens and closes silently and softly each time.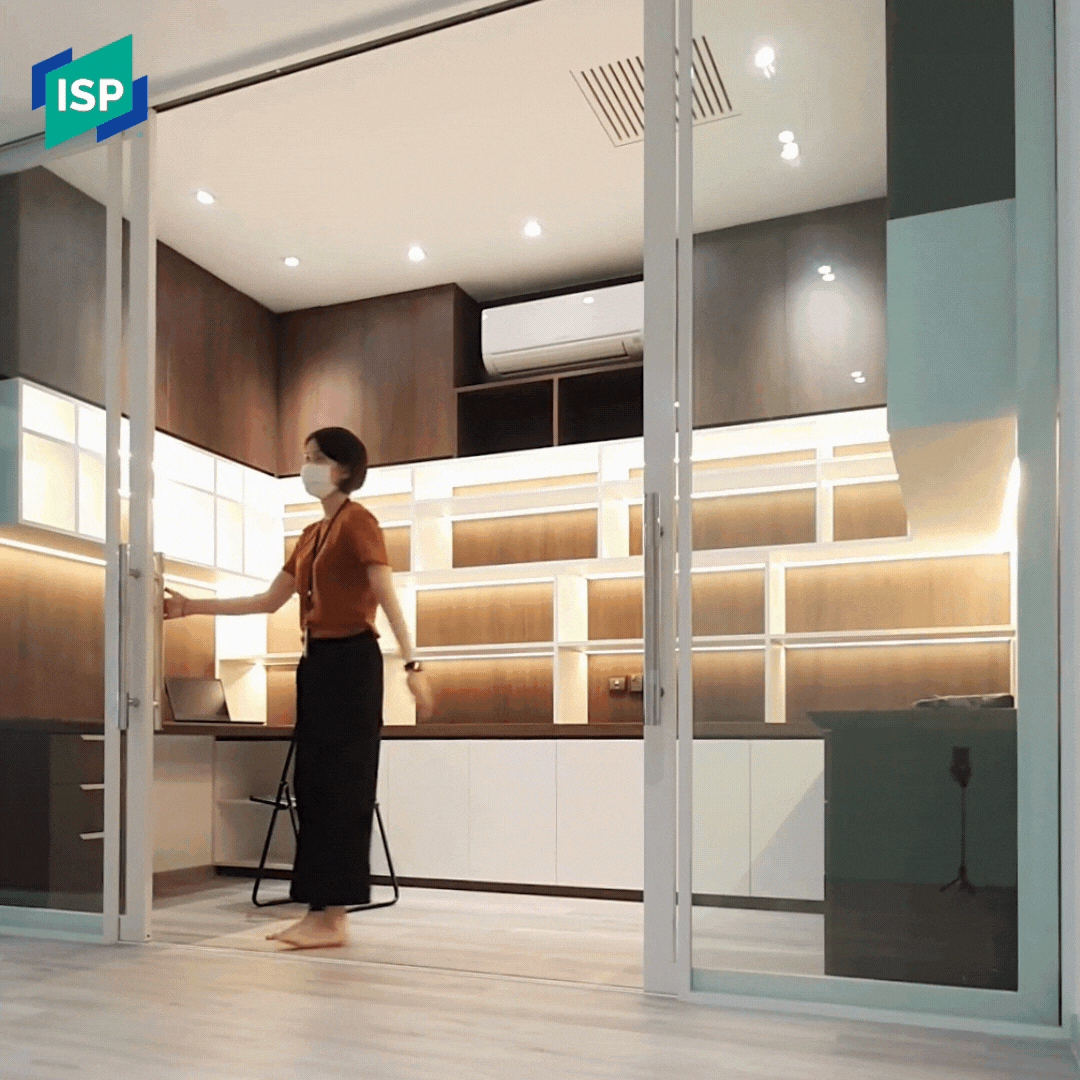 3. Expertise and Workmanship
With the on-going requirements for predominantly open-plan office space, there is a growing need for quiet meeting rooms and office corners for focused work and confidential conversations to take place. Consequently, the acoustic performance of glass doors and partitions has become increasingly important as unwanted noise in the workplace affects productivity.
With our technical expertise and passion for excellence, we strive to provide our clients with a product that offers the ideal balance between acoustic performance and design aesthetics. SOLO SDS is available in two default colours – Sandtex Black and Anodised Silver. Additionally, customisation options of colour, finishes, handles and door locks are also available to suit varying aesthetics and requirements for different projects.
At ISP, our products are meticulously crafted with the end-user needs in mind. Have an upcoming project? Get in touch to discuss with you the next steps on crafting the ideal acoustics environment!