As 2019 draws to a close, we take stock and round up the past year.
Year in Review
This year saw a minimalist approach to workspace design, where elegant furnishings, clean lines and maximum sunlight is preferred. Neutral colour tones such as greys and creams, as well as natural materials such as wood, were largely used to complement the clean look of designs.
To achieve a work environment that promotes wellbeing for employees and productivity, acoustics glass partitioning was the preferred choice as it not only evokes a sense of openness by creating an illusion of larger and brighter space while also managing the acoustics level of workspaces.
Our classic collection of single glazed panel system (SOLO) remains as the customers' hot favourite due to its simplicity that offers maximum sleekness as well as its ability to effortlessly sections individual spaces.
Open Meeting Pods
2019 has also seen a growth in exposed ceilings and "pod" environments within office interiors. With the increase of collaborative and open-space work environment, these pods act as break-out spaces with acoustics benefit. Employees can pop into pods for calls, quick in-person chats, virtual meetings, or solo productivity.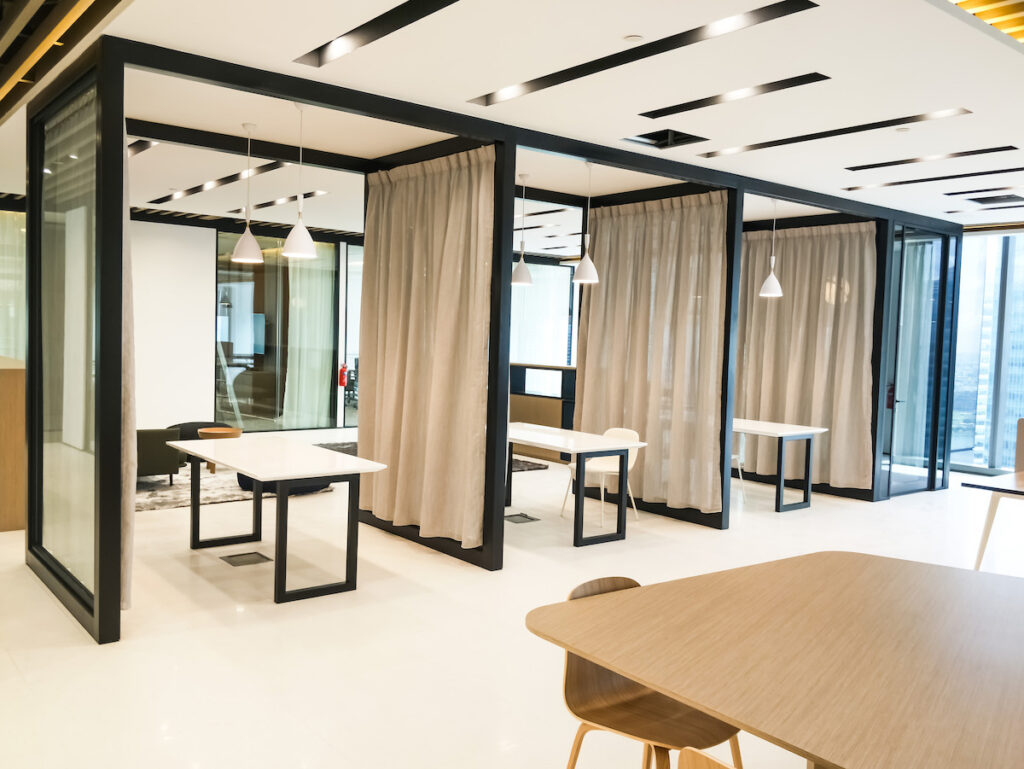 Employee Wellbeing
As shared in our earlier articles, good acoustics and natural light indirectly affects our employee's wellbeing and productivity in the workspace.
With more interior trends leaning towards open-plan concept to promote collaborative working, the workspace design needs to address the concerns of visual and acoustic privacy. Glass partitions are playing an ever-increasing role in designs where maximising light is just as important as acoustic requirements.
What's Next?
We believe that the acoustic performance of glass partitions will continue to be a strong focus throughout 2020.
With modern office fit-outs commonly featuring an abundance of open spaces and areas for informal meetings and collaborations, there will also be a need for meeting rooms to allow confidential meetings or conference calls to take place. With this in mind, high acoustic performance in these areas is not only essential but also strongly desired.
At ISP, our technical expertise; investment in product development, and passion for excellence has enabled us to create exceptional partitioning systems that provide market-leading acoustic performance. With our commitment to driving acoustic standards forward, and upwards, we will continue to innovate throughout the coming year and beyond.
We look forward to an exciting 2020!